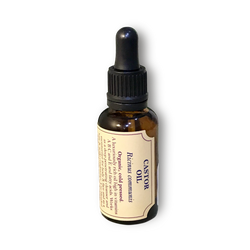 Pippettes dispensary
Castor Oil - Organic, Cold Pressed
RICINUS COMMUNIS
A luxuriously rich oil high in vitamins A, B, C and E and fatty acids including Ricinoleic Acid known for its strong anti-fungal and antibacterial actions. Castor Oil can be used as a deep penetrating cleanser and a moisturiser for body and face. It is also renowned as a hair and scalp conditioner.
Directions: Always use blended with another nourishing organic oil at a ratio of 1 part Castor : 3 parts other organic oil. Try with avocado, olive, sunflower or sesame as a twice weekly deep facial cleanser.
Not for internal use. If irritation occurs cease use.
Seek advice if pregnant or using on babies/children.
100% organic Ricinus communis (Castor) seed oil.
We aim for zero waste, using biodegradable and sustainable materials.
Our mail orders are sent in biodegradeable and paper based packaging, which can in turn be recycled or composted.
Our candles come in reusable glass containers.
We are working with our suppliers so they meet our high environmental standards.
Delivery and returns
Our policy on delivery and returns