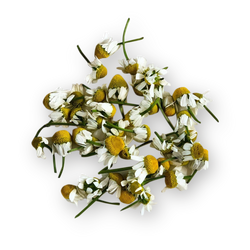 Pippettes
German Chamomile flower tea - Organic Dried Herb
Matricaria recutita (flos.)
Compositae
Steeped in historical uses, these small and fragrant composite flowers traditionally have been used as a gently sedating and calming tea that may help to reduce anxiety and assist sleep. Gentle enough to be used on babies over 6 months (see precautions below) With high levels of antioxidants (apigen) it may assist with the maintaining health, reducing inflammation, improving digestion and help control blood sugar. The tea can be used topically or in a bath to assist in reducing inflammation such as rashes, stings and  excema. Can help reduce allergic reactions when inhaled in a steam as with hayfever / allergic rhinitis. Chamomile tea has traditionally been used with eyebright tea on cooling packs over the eyes to reduce inflammation as well as in a pillow sachet with Lavender, to assist sleep.
Flavour/ profile
A light sweet tea with a mild taste of apples.
Blends nicely with Plantain
Organic
Caffeine free
Instructions
INFUSION TO DRINK: Add 1-2 heaped teaspoon to a mug or teapot and add  250ml boiling water. Allow to infuse for 5 minutes. Cover for the added benefit of inhaling the aromatic aroma / oil when inhaling as drinking the tea.  
SOOTHING SKIN SOAK: As above, but infuse for 15 minutes then add to bowl of warm water to bath or clean compress cloth. Can add to 2 tablespoon of Epsom salts and soak in a bath for 10 minutes.
Precautions:
Avoid if allergic/ sensitive to Asteracea/Compositae plant family.
We recommend that you consult with a healthcare practitioner prior to taking herbs; especially if you are pregnant, nursing or on medication. This information is not intended to diagnose, treat, cure or prevent any disease.  
We aim for zero waste, using biodegradable and sustainable materials.
Our mail orders are sent in biodegradeable and paper based packaging, which can in turn be recycled or composted.
Our candles come in reusable glass containers.
We are working with our suppliers so they meet our high environmental standards.
Delivery and returns
Our policy on delivery and returns