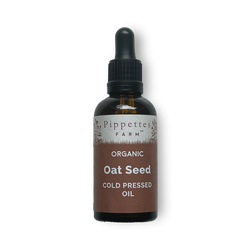 Pippettes dispensary
Oat Seed Oil - Organic cold pressed 50ml
Avena sativa seed oil (organic) 50ml
High levels of Linoleic acid (omega 6), Vitamin E and Ceramide promoters help reduce inflammation, retain moisture and reduce fine lines. Soothes dry, itchy and sensitive skin and scalps. Non greasy, non-comedogenic and easily absorbed.  Suitable for all ages. May contain gluten.
We aim for zero waste, using biodegradable and sustainable materials.
Our mail orders are sent in biodegradeable and paper based packaging, which can in turn be recycled or composted.
Our candles come in reusable glass containers.
We are working with our suppliers so they meet our high environmental standards.
Delivery and returns
Our policy on delivery and returns