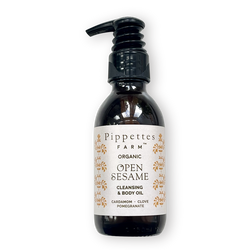 Pippettes
Open Sesame - Cleansing Shower Oil
Cardamom - Pomegranate - Clove
Get clean and pamper your skin at the same time with Open Sesame Shower Oil, the indulgent alternative to shower gel or soap. This unique fragrant formula has proven to be one of our bestsellers.
At Pippettes we grow many of our organic ingredients which are infused and blended on our biodynamic Suffolk farm to high ethical and sustainable standards.
Pippettes has recreated an exotic blend from the crossroads of the Orient, using purest golden sesame oil, warming cardamom and clove, together with zingy lemongrass in a luxurious, aromatic body cleansing oil.
Elaine, our medical herbalist says,
"Organic pomegranate oil has high levels of punic acid which assists the production of keratinocyte in the epidermis and is super rich in antioxidants. It combines beautifully with cold pressed virgin sesame oil, which is part of the nurturing Ayurvedic massage tradition of India.
"I adore the fragrance and intensitiy of lemongrass with cardamom and clove. Making Open Sesame from traditional recipes gave me the opportunity to use these oils in a deep cleansing and moisturising body oil.
"I love our customers' reaction when they smell it for the first time in our store - it's so addictive! As well as a cleansing oil, it's a fantastic after-shower and post-shave oil too as the the pomegranate oil adds a luxurious silkiness that locks in moisture and traps that amazing fragrance on your skin for hours!".
The heady fragrance will transform your bathtime and the rich formula will save your skin from the drying effects of shower gel and soap.
Open Sesame Cleansing Shower Oil is a great favourite in our boutique: one sniff is all it takes! We are pleased to offer Open Sesame with the option of a glass bottle in our efforts to minimise plastic waste.
Directions: Massage into dry skin vigorously after body brushing. Shower or bathe in warm water. Pat dry for wonderfully cleansed, moisturised and softened skin.
Not tested on animals - Organic ingredients - Natural ingredients - Vegan - Made in the UK - Recyclable packaging - Use within 9 months of opening
Sesamum indicum (Sesame) seed oil*, Punica granatum (Pomegranate) seed oil*, Cymbopogom flexuosus (Lemongrass) oil*, Pelargonium graveolens (Geranium) oil*, Elletaria cardomomum (Cardamon) seed oil*, Eugenia caryophyllus( Clove )seed oil*, tocopherol , citral**, geraniol**, linalool**, limonene**. *organic ** essential oil constituents.
We aim for zero waste, using biodegradable and sustainable materials.
Our mail orders are sent in biodegradeable and paper based packaging, which can in turn be recycled or composted.
Our candles come in reusable glass containers.
We are working with our suppliers so they meet our high environmental standards.
Delivery and returns
Our policy on delivery and returns