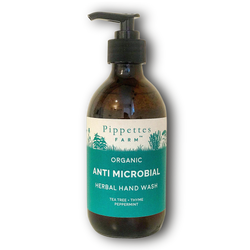 Pippettes Farm
Anti Microbial Herbal hand wash - Pippettes Farm
TEA TREE - PEPPERMINT - THYME  
An invigorating, deep cleansing hand wash. Combining our traditional formula of researched, anti microbial organic herbs with our gentle aloe vera based, SLS free, natural hand wash.

Directions:
Apply soap to dry hands, ensuring to massage through fingers, palms and around wrists. Wash further with warm water, rinse and dry with air or clean wipe.

Aqua (Water), Capryl/caprylyl glucoside, Cocomidopropyl betaine, Glycerine (Veg), Xanthan gum, Phenoxyethanol, Quillaja saponaria (Soap bark) extract, Aloe barbadensis (Aloe vera) leaf powder , Sodium benzoate, Potassium sorbate1, Citrus paradisi ( pink grapefruit) extract, Menthol glycerin acetal , *Thymus officinalis (thyme) essential oil, *Melaleuca alternifolia (tea tree) essential oil,  *Mentha piperita (peppermint) essential oil, *Eucalyptus globulis (eucalyptus) essential oil, *Cymbopogen flexuosus (lemongrass) essential oil, *Rosmarinus officinalis (rosemary) essential oil, **citral, **citronelool, **geraniol, **limonene, **linalool. *certified organic, ** essential oil constituent.
We aim for zero waste, using biodegradable and sustainable materials.
Our mail orders are sent in biodegradeable and paper based packaging, which can in turn be recycled or composted.
Our candles come in reusable glass containers.
We are working with our suppliers so they meet our high environmental standards.
Delivery and returns
Our policy on delivery and returns