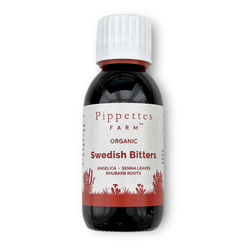 Pippettes
Swedish Bitters - with & without alcohol
This powerful combination of herbs was originally put together by Swedish physician, Dr Samst who was said to have lived to 104 years of age. The Senna contained in the tonic is well known for bowel cleansing properties. Traditionally used to help digestion, Swedish Bitters are a popular choice amongst medical herbalists when promoting regularity, maintaining health and energy levels.
Swedish Bitters – contains Aloe, Angelica, Artemisia absinthium, Manna, Rhubarb roots, Senna leaves, Theriac Venezian (Blacksnake root, Cinnamon bark, Malabar Cardamom, Valerian root), Zedvoary roots, Carline Thistle roots, Myrrh, Camphor, Saffron, Zingiberis.
We aim for zero waste, using biodegradable and sustainable materials.
Our mail orders are sent in biodegradeable and paper based packaging, which can in turn be recycled or composted.
Our candles come in reusable glass containers.
We are working with our suppliers so they meet our high environmental standards.
Delivery and returns
Our policy on delivery and returns